Union is a mechanical engineering company which was founded in 1976. It started as a machining workshop producing components for the automotive industry. Over the years it evolved to become a modern company capable of producing complete machines or subassemblies.
The company has the advantage of a warm family atmosphere and experience of a third generation, long time love affair with the mechanical engineering industry; all the staff cooperates, in a friendly environment, to pursue customer satisfaction.
We rely on our excellent reputation and experience, family atmosphere and our aim is to build a long term relationship with our customers which we believe to be a winning combination. This combination in addition to our quality performances enables us to assure a swift solution to our customers requirements.
Your problems become ours, our solution becomes yours.
The Union central base is in Carpi, in Northern Italy in the region of Emilia Romagna. A well known homeland for engineering mechanics, automation and world renowned sports cars. The Carpi plant can be easily reached from the Brennero motorway link.
The Company also has the advantage of having offices in Trnava (Slovakia) and in Coimbatore (India).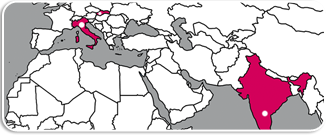 ←BACK